Young Scientists Profile: Conversation with Melis Anahtar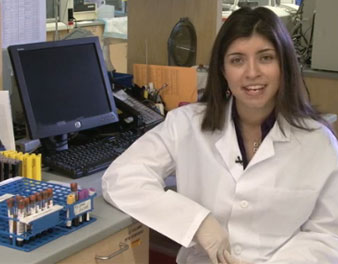 Can you please talk about your background?
My parents are both Turkish and immigrated to the U.S. one year before I was born. I was raised in the suburbs of DC, and had the opportunity to attend public schools that had special programs for gifted students interested in pursuing advanced classes in math, science, and computer science. These programs and other extracurricular activities fostered my love of the sciences and gave me opportunities to explore my interests.
You've always been on the top ranks of academic achievement. What was the driving force behind your success at such young ages?
I attribute my successes to my parents, my mentors, and the schools that I attended. My parents own their own architectural firm in Bethesda, Maryland, and from a very early age I saw them work tremendously hard to succeed. I learned through their example that there is a strong correlation between persistence and achievement, especially when coupled with creativity. I also had wonderful mentors like Mehmet Toner who helped me to discover my loves of research and medicine. Finally, as I mentioned before, schools that I attended gave me the wonderful opportunity to learn these subjects at a very advanced level and be constantly surrounded by very talented and like-minded classmates.
You've attended top universities of the world. Can you share your opinion on what makes those institutions what they are?
The institutions that I've had the privilege to attend – MIT, Harvard, and Oxford – are all idea incubators, in that they bring smart and motivated people together from all corners of the world and provide them with the resources to come up with cool ideas and bring their ideas to fruition. There are countless talks that take place every day at these schools, and each talk could potentially serve as a catalyst for a scientific breakthrough. MIT in particular is very focused on innovation, seeking creative solutions by blurring the lines between disciplines, and bringing good ideas into the marketplace. Obviously, these institutions also have generous endowments that allow (often expensive) cutting-edge research to take place.
What would you like to say to the Young Turkish Scientists?
I've had the pleasure of meeting many inspiring young Turkish scientists over the past few years and I think they could offer me more advice than I can to them! I can pass along advice that others have told me: pursue questions that you're passionate about, find good role models and mentors, avoid getting disappointed too easily because science can be tough and scientific failures aren't personal, and don't give up easily!
Would you be able to summarize your research in one paragraph?
HIV is a devastating epidemic that now disproportionately infects women. I am studying how the human immune system responds to HIV infection in the female genital tract. I'm pursuing this in several ways, including using a novel microfluidic device developed at MIT to comprehensively analyze the immune cells in the female genital tract that eliminate the virus and virally-infected cells, and studying how the bacteria that live in the genital tract affect a person's susceptibility to acquiring HIV. By understanding how HIV is acquired, we hope to develop better treatments and vaccines to prevent its spread.
---