Arcelik Project: A Ticket For Your Future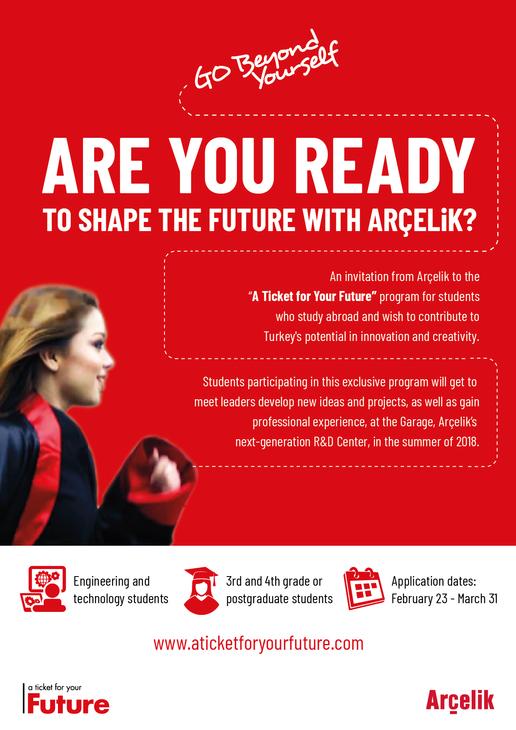 Arcelik initiates an enthusing program called "A Ticket for Your Future" which aims to meet successful Turkish students who study abroad. The program allows to keep students updated on the latest Arcelik developments, and support them on their projects as well as providing an opportunity to work with Arcelik. One of the biggest supporters of the project, Prof.Dr. Arzu Karabay Korkmaz, emphasizes the project as an idealist scholar who returned to Turkey after 10 years of education in US. She knows the importance of giving back and how our country needs well-educated students abroad.
 
Arcelik aims to invite Turkish students at senior and master levels on abroad to the "A Ticket for Your Future" program in the summer of 2018 in which all the expenses will be covered by Arcelik. The goal is to ensure the sustainability of this program for coming years and increase the social benefit for our country by working with more and more Turkish students year by year.
The qualified students have to study one of these departments that Mechanical Engineering, Electric/ Electronics Engineering, Computer Engineering, Mechatronics Engineering, Food Engineering, Textile Engineering, Chemical Engineering, Material Engineering, Industrial Engineering, Business Engineering and so on.
If you are studying at Engineering school or any technology related field, we would like to encourage you to apply the program. This is the chance for contributing Turkey's innovation and creative projects as well as make an impact in your career path. Please visit the website http://www.aticketforyourfuture.com/ for more details. The deadline is extended until April 15th, 2018.