TASSA 2008 Annual Conference Overview
TASSA 2008 presentation videos and the conference booklet are now available! The conference was webcasted in real-time over the internet for those who are not able to attend this year's conference at Harvard University on April 11-13, 2008.
We invite you to see TASSA 2008 promotional video and Annual Conference Flyer (English and Turkish)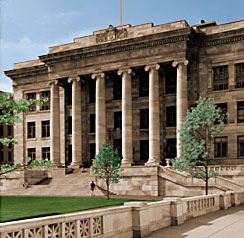 The 4th annual conference of the Turkish American Scientists and Scholars Association (TASSA'08) was held at Joseph B. Martin Conference Center at Harvard Medical School in Boston, MA, on April 11-13, 2008. The conference theme was "Innovation as Driver for Social Transformation and Economic Growth" and had the overall goal to establish a sustainable science bridge between the United States and Turkey.
The meeting was organized to include many distinguished and young speakers, interactive discussion panels, various types of meet-and-greet sessions, and a stakeholders' fair. The objective was to create a dynamic platform for many young and experienced American, Turkish, and Turkish-American scientists to explore and develop new collaborative initiatives, thereby strengthening and enhancing the scientific and technological cooperation between the United States and Turkey. The participants had time to interact and network with one another during dedicated periods, both in smaller and larger groups. Specific time slots were allocated for poster sessions in reserved areas. This year's meeting, just like the previous ones, was an excellent platform to mobilize the Turkish and American communities to work toward mutually beneficial goals.

Organizing Committee
Conference Committee
Mehmet Toner, Conference Chair
Banu Onaral, Conference Co-Chair, TASSA President
Süleyman Gökoglu, TASSA Past-President
Aylin Sagay, Executive Director
Hande Özdinler, Membership Committee Chair
Yaman Yener, Conference Local Committee Chair
Gökhan Hotamisligil, Conference Local Committee
Selim Ünlü, Conference Local Committee
Poster Committee
Aziz Ulug
Fikri Avci
Murat Çokol
Metin Sitti
Murat Eron
Ali Özdogan
Kenan Gündogdu
Hasan Ayaz
Conference IT Committee
Yalçin Sert
Hasan Ayaz
Local Volunteers
Ahmet Özcan Nergiz
Alper Uzun
Basak Uygun
Bilgehan Dönmez
Bugra Arslan
Burak Çesme
Burak Erem
Çagri Yüksel
Cihan Yilmaz
Demet Sentürk
Ece Eseller Bayat
Emre Tuncel
Güzde Durmus
Kerim Eken
Korkut Uygun
Mehmet Ceyhan
Mehmet Mete Altintas
Mustafa Oguz Aykaç
Oguz Deniz
Özlem Senol
Salih Saran
Seda Gökyer
Selçuk Yerci
Serkan Erbis
Volkan Vural
Yalçin Bulut
Yusuf Özbek