Biography of Yesim Alkaya Yener, Hacettepe University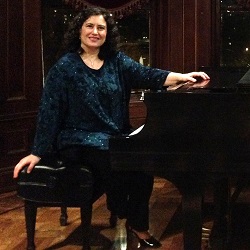 Yeşim Alkaya Yener's musical talent was discovered at an early age while she studied piano at the State Conservatory of Ankara and she won the right to continue her education on the status for "Specially Talented and Gifted Children." She received her Bachelor Degree at the age of 18, after which she went to the U.S. for advanced studies in Piano. She was admitted to Rochester University, Eastman School of Music, in the USA, as a student of Prof. Rebecca Penneys, where she received her Master of Music Degree in Piano Performance at the age of twenty, as the youngest graduate ever. Prof. Penneys has written about her that "In music, one
does not meet too many Yeşims." Then, she studied advanced piano performance and music pedagogy at Russia (Gnesinih Music Institute) and Italy (Santa Cecilia Music Institute. Between '91-'95, she continued her studies with Mrs. Vivian Weilerstein at The Cleveland Inst. of Music where she received her doctorate. During her studies there, she had an opportunity to study with such very famous teachers and artists as, Ms. Anne Epperson, Vronsky Babin Mme, Claude Franke and Paul Schenly. Her first orchestral concert was with N.Y. Chautauqua Orchestra, Anthony Milograno as the conductor. Later, she worked with conductors such as Daniel Barenboim, Louise Lane, Wayne Jeffrey and Carl Topilow. While in USA, she received the "Prize Winner" award from the International Murray Dranoff Duo Piano Competition and won the First Prize at Omta Grave Piano Competition. Her Icareer includes many international Solo and Duo Piano concerts; concerts with Chamber Groups, with orchestras and soloists at music festivals in countries like Turkey, USA (Washington DC, College Park MA, Cleveland OH, Oakpark OH, Rochester NY, Bloomington IN, Elettsville IN, Chicago IL, Oakbrook IL, Miami FL, New York N.Y), Russia, Poland, England, Germany, Italy, Ukraine, Bosnia, Moldavia, Jordan and Bulgaria, Hungary (Budapest, Krakow, Szeget . She made many Radio and TV appearances and recordings in these countries. She was appointed as the pianist of Chicago Civic Orchestra. She was the Jury Member for the Interstate piano competition in Chicago and served, regularly, on the Jury for the Chicago CPS Music Competitions. After returning to Turkey in '04, she joined the piano faculty, as a full-time instructor, at Hacettepe University Ankara State Conservatory, the oldest and most prestigious music institution in Turkey. She was a jury and board member for the International Pera International Piano Festival in Istanbul for several years. She conducted many Master-Classes in Turkey and USA. She has several published articles and a book. She organized and served as the Head of several international music festivals such as The International Chopin Symposium, '10, The International Liszt Music Festival, '11 and The International Bartok Music Festival and Symposium, '15.
She was appointed as Associate Professor in '06 and became a full Professor in '12 at Hacettepe University, State Conservatory of Ankara where she continues to work as a full-time piano faculty. She continues to perform a variety of concerts in Turkey and abroad.