Young Scientists Profile: Conversation with Gizem Dönmez
Can you please talk about your background? (When did you come to the U.S and how)
I graduated from ODTU (Middle East Technical University) Department of Molecular Biology and Genetics in 2000. Then, I did my M.Sc and PhD in Gottingen Germany at the Max-Planck Institute for Biophysical Chemistry on Molecular Biology and Biochemistry. Then, I came to MIT in 2007 and continued with my postdoctoral studies.
You've always been on the top ranks of academic achievement. What was the driving force behind your success at such young ages?
I think my family was always supportive of me to go to the best schools and receive the best education. I always liked to read and search, I just liked books :))) I was very interested in science since I was young. Even when I was in high school, I was fascinated by the fact of aging. I always thought about aging and asked the following questions: Why do we age? Why does everybody age the same way? Can we prevent it? This encouraged me to study Molecular Biology and Genetics.
What would you like to say to the Young Turkish Scientists?
Science and technology improve with an unbelievable pace. 20 years ago, we did not have the laboratories we have right now. It was not common at all to go abroad for a summer practice while you are an undergraduate student. Internet was not that much in our lives. I think young scientists have the advantages of being exposed to these things much earlier, which is a big advantage . And they should take advantage of it. Again with the advancement of technology and unification of disciplines, many people from different backgrounds are interested in basic and applied sciences. This makes the environment very competitive and as a result, everybody should work very hard, start the game ahead of time and think creatively.
What would you like to achieve in the near future?
I would like to make discoveries leading to the cure of neurodegenerative diseases.
Would you be able to summarize your research in one paragraph?
In my laboratory, I am working on the role of Sirtuins (lysine deacetylases that are stress-response and survival proteins) in neurodegenerative diseases. Before, we showed that Sirtuin 1 was protective against Alzheimer's and Parkinson's diseases. Now, we are working on the mitochondrial homologues of this protein and their role in brain aging and disorders. We are also working on the heat shock response pathway and molecular chaperones in brain. This system is important in preventing protein aggregation that occurs in almost all neurodegenerative diseases. We are investigating what happens to this mechanism during aging and neurodegenerative disorders.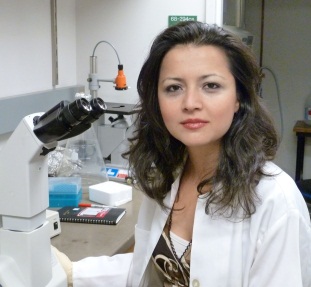 ---