Young Scientist of the Month: Emrah Turgut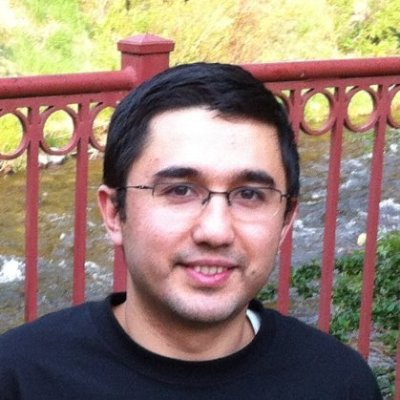 1) Would you please tell us about yourself and your journey that led
     you to become a scholar.
I am Emrah Turgut, working as a third-year postdoctoral research associate at Cornell University in Ithaca, New York on chiral magnetic materials. Before my postdoc, I obtained my doctoral degree at the University of Colorado at Boulder on studying laser-induced spin currents in magnetic multilayers. I am married and father of a three-year-old.
My journey started with the national and international physics Olympiads as a high school student. Following physics Olympiads, I continued my education at Physics Department of Middle East Technical University. I define myself as an 'Olympiad-induced physicist', which means my interest in natural science comes from intense studies during Olympiad preparation camps and my mentors. Particularly, Sinan Bilikmen, Bayram Tekin, and Ozgur Oktel played a crucial role in my decision to pursue physics major in undergraduate and graduate schools.
During my undergraduate study at METU, I had research experience with Hande Unstunel who was just appointed as an assistant professor. She was very motivated and generous about her time to teach advance quantum subjects that I could not learn anyway. After studying density functional theory on silicon with her, I had privilege study with Aydogan Ozcan's group at UCLA in my sophomore summer, in 2008. That was an eye-opening experience for me to shape my scholarly future. His personality and the research conducted in his group made me aware of how little I know and work, and how research in science and engineering has endless joy and promising future. I also had a chance to attend seminars during that summer, one of which created an opportunity to continue my graduate study at Kapteyn-Murnane group at University of Colorado Boulder.
2) Tell us about your research and how it is related to everyday life
     or other fields.
If I summarize what I do by a sentence: Understanding novel magnetic properties in nontrivial spin textures and quantum materials using advanced laser techniques and utilize them for spintronics applications. For example, I understand helical and spiral spins in topological spin textures that have unique physical properties, and use table-top X-ray sources that have unprecedented spatial, temporal, and chemical resolution, and finally, utilize spin-torque in these magnetic systems to switch magnetic states between '1' and '0' as in MRAMs.
3) What do you consider important to your success?   Tell us about any
     skills or habits that you think helped you to become a successful
     scholar at such a young age.
I was lucky and partially made my luck to be with the right people at the right time, and I know my strengths and weaknesses. For example, I am fascinated with light-matter interactions, and I cannot stop reading and thinking about related subjects. Therefore, I chose related research topics and rerouted them towards my interest. Another example, I was lucky to work with Aydogan Ozcan's group at that time. I am 100% sure I cannot find the same chance if I try today as an undergraduate. Another skill I have, I think helped me a lot, is to be able to concentrate, and disregard many things about daily life except responsibilities. Some call it deep learning or deep work.
4) What are your immediate and long-term goals for the future?
I want to be able to complete my postdoc study on understanding topological spin textures in thin films. It may require a couple of more years. After successfully completing my postdoc, I am interested in research positions as a faculty in the US or Turkey. Particularly, I want to build advanced laser systems to perform ultrabroadband spectroscopy ranging from few GHz to tens of PHz, and use this source to study electron and spin dynamics in complex condensed matter systems.
5) What do you recommend to aspiring scholars, or to young Turkish
     scientists/scholars who are at the beginning of their careers?
I recommend them to be at the right place with the right people. If they think that a place is not right, a friend does not sound right, a research topic is not going anywhere, housing environment does not comfort, they should fix or change by a positive and proactive approach. If they see an opportunity, they must not miss it, and hard work to create their opportunities. They should listen to their advisors, which should be multiple, but should decide what they want to do and interesting to them.
6) Could you please tell us about your life outside of your work? Do
     you have hobbies? What are your favorite activities? If you recommend
     a book, what would that be and why?
I spend a lot of time in my car to commute my work. I do not read much, instead, I listen to radio or audiobooks. I recommend The American Life podcast by NPR. I found very useful and entertaining for those who live in the US. I sometimes listen to the bestsellers and science history. Recently, I listened to the history of DARPA, which was quite interesting. I also like to listen Turkish Art Music.
Other than my research, I spend most of my time with my family, especially my daughter. As she repeats constantly, "Fathers' favorite thing is to