Turkey loses a great mind; Oktay Sinanoğlu dies at age 80.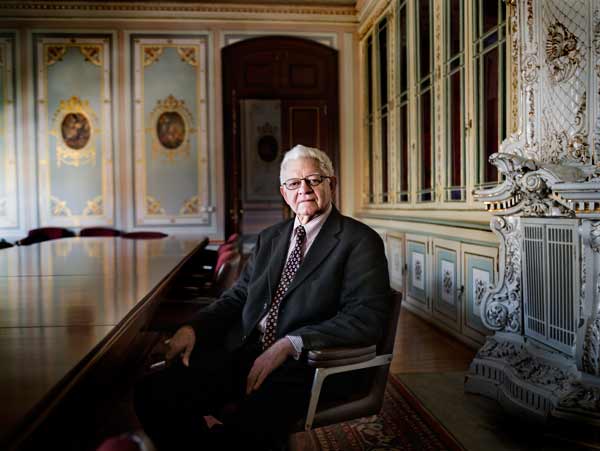 Oktay Sinanoğlu, Professor emeritus of chemistry and molecular biophysics and biochemistry and former Yale faculty died at age 80 on April 19, 2015.
Sinanoğlu was born in Bari, Italy on February 25, 1935 to Nüzhet Haşim and Rüveyde (Karacabey) Sinanoğlu. His father was a consular official under the Consul General Atıf Kor in the Bari Consulate of Turkey, and a writer. The family returned to Turkey before the start of World War II.
Sinanoğlu graduated from TED Ankara Koleji in 1951. He went to the United States in 1953, where he studied at University of California, Berkeley graduating with a BSc degree with highest honors in 1956. The following year, he completed his MSc at MIT (1957), and was awarded Sloan Fellowship. He completed his predoctoral fellowship (1958-1959) and earned his PhD in physical chemistry (1959-1960) from the University of California, Berkeley.
On December 21, 1963, Oktay Sinanoğlu married to Paula Armbruster, who was doing graduate work at Yale University. The wedding ceremony took place in the Branford College Chapel of Yale.
He remarried to Dilek Sinanoğlu and from this marriage he became father of twins. The family resided in the Emerald Lakes neighborhood of Fort Lauderdale, Texas and in Istanbul, Turkey.
In 1960, Sinanoğlu joined the Yale faculty. He was appointed full professor of chemistry on July 1, 1963. At age 28, he became the youngest full professor in Yale's 20th-century history. It is believed that he was the third-youngest full professor in the 300-plus year history of Yale University.
In 1962, the Board of Trustees of Middle East Technical University in Ankara dignified him with the title "consulting professor", for the first time and unique only for him.
In 1964, he founded the theoretical chemistry division at Yale. During his tenure at Yale, he developed the "Many Electron Theory of Atoms and Molecules" (1961), "Solvophobic Theory" (1964), "Network Theory" (1974), "Microthermodynamics"(1981), and "Valency Interaction Formula Theory" (1983). He developed a revolutionary method called "Sinanoğlu Made Simple" from his own mathematical theories and published in 1988. With the help of this research system, and using simple pictures and periodic table, chemists could predict the ways in which chemicals combine in the laboratory, and solve other complex problems of chemistry.
He received the "TÜBİTAK Science Award" for chemistry in 1966, the "Alexander von Humboldt Research Award" in chemistry in 1973, and the "International Outstanding Scientist Award of Japan" in 1975.
After 37 years on the Yale faculty, Sinanoğlu retired in 1997. During his time at Yale, Sinanoğlu served as a frequent consultant to several Turkish universities and to the Scientific and Technological Research Council of Turkey (TÜBİTAK) as well as to the Japan Society for the Promotion of Science (JSPS).
After his retirement from Yale, Sinanoğlu was appointed to the chemistry department of Yıldız Technical University in Istanbul, serving until 2002.
Sinanoğlu was author or co-author of many scientific books and articles. He also authored books on contemporary affairs in Turkey, and Turkish language such as "Target Turkey" and "Bye Bye Turkish" (2005).
A 2001-published best-seller book about his life and works, edited by Turkish writer Emine Çaykara, titled him The Turkish Einstein, Oktay Sinanoglu (Turkish: Türk Aynştaynı Oktay Sinanoğlu Kitabı).
Source: Wikipedia
The following piece appeared in Yale Daily News.
"Turkish Einstein," Yale chemistry professor, dies
BY AMAKA UCHEGBU STAFF REPORTER
Friday, April 24, 2015
To those who knew him, Oktay Sinanoglu was more than just a scientist.
A professor emeritus of chemistry and molecular biophysics and biochemistry, Sinanoglu was frequently hailed as the "Turkish Einstein." He first achieved world renown in the early 1960s, when he was given his first full faculty position at Yale. Appointed a professor in 1963, Sinanoglu was the youngest full professor of the 20th century and the third-youngest Yale professor ever. He went on to serve on the Yale faculty for 37 years.
Sinanoglu passed away at a Miami hospital on Sunday, April 19. He was 80 years old.
Among his leading achievements was the development of the Valency Interaction Formula Theory. But he was also instrumental in developing a theory of the electron structure of molecules, which has helped with the development of accurate approximations for the electron Schrödinger equation — considered an essentially impossible equation to solve.
"My father was definitely what I would call a renaissance man," said Elif Armbruster, Sinanoglu's eldest daughter. "He was extremely gifted at everything and we all shone a little brighter because of who he was."
For Armbruster, tinkering with the beakers and test tubes in her father's Prospect Street lab as she tip-toed over the large Turkish carpet he laid proudly in his office are among her most cherished memories of her father. A lover of Turkish music and culture, Sinanoglu never forgot where he came from, Armbruster said. His deep love for Turkish music also manifested in family concerts. Sinanoglu would play the saz, a Turkish instrument, while other family members played flutes and violins.
Chemistry professor Robert Crabtree said he always enjoyed the lively discussions he had with Sinanoglu over the years.
"These were often carried out in a thick atmosphere of cigar smoke, as a result of the habit to which he always adhered," Crabtree said fondly. "One did not need to be a bloodhound to track his movements around the department by following the trail of aromatic smoke."
Though Sinanoglu's spoken word was spirited, it was his eloquent writing that was particularly touching, Armbruster said. On one occasion when she was out of the country, she communicated with her father through letters.
"He wrote me the most incredible letters while I was abroad for three years," Armbruster said. "He was such an eloquent writer both in Turkish and English. I'll never forget it."
Though the international world knew Sinanoglu as a scientist, his first love had always been writing, Armbruster said. Sinanoglu wrote short stories and poetry as a teenager, but his love of science was more practical and, as a result, prevailed.
As he grew older, academia became more than a career for Sinanoglu.
According to Sinanoglu's son Murat Armbruster, Sinanoglu's work comforted him. As he got older, he would often work on math and science problems as a way to relax.
"If he could not sleep at night, he would go and study," Armbruster said.
In addition to being a thinker, Sinanoglu was also a teacher, and those who knew him were touched by how well he taught, both in word and in action. Murat Armbruster described a memory of Sinanoglu carefully explaining all the molecular models and structures in his office to Murat when he was young.
"We could well have been learning graduate-level chemistry when me and my siblings were less than 10 years old!" he said.
Elif Armbruster agreed, saying that there was no question in her mind that her choice to enter academia was because of her father. In her father's eyes, a bachelor's degree was like a high school diploma — only the beginning of one's education — she said.
Sinanoglu also used his influence to become a thought leader, emphasizing Turkish pride and the preservation of the language.
Though his health had been declining for some time before his death, both of Sinanoglu's children said they were still in disbelief.
"It is the end of an era — that's how we've been talking about it," Elif Armbruster said as she thought back to the call her family received from the Turkish Prime Minister offering condolences. "He had such an impact on our lives, we all expected him to live forever."
Sinanoglu's funeral will be held in Turkey this Sunday.