Highlights of TASSA 2018 Conference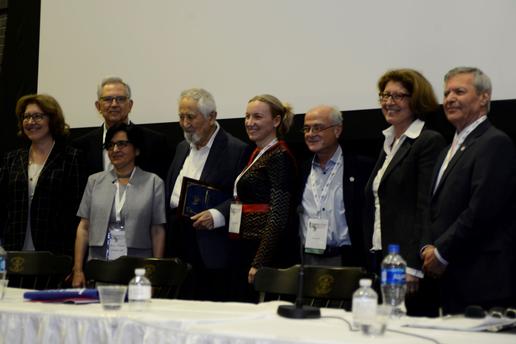 TASSA '2018 took place on June 2-3, 2018 in Boston, MA at the Boston University, and was a great success thanks to the more than 270 attendees and countless volunteers. As the TASSA team emerging from the post-conference recovery period, we want to share a special issue that summarizes the highlights.
At the TASSA'2018 Conference, we had the usual mix of opening remarks, keynote presentations, panels, and social events.
• The theme of the TASSA'18 Conference was "Disruptive Ideas and Technologies". Disruptive technologies are game-changers and they fundamentally change the manner, in which things are done. New technologies continue to evolve in different sectors, but not all of them are able to impact the way people live.
• The opening remarks were given by the conference co-chairs, Selim Ünlü and Nese Lortlar Ünlü and by the TASSA President, Haluk Unal.
• We were lucky to have esteemed keynote speakers like President of TÜBİTAK, Hasan Mandal, the President of TIAX, Kenan Sahin, and Selçuk Şirin from NYU.
• The panels of the TASSA '2018 are organized on the following four topics with high social impact: (1) Engineering and Physical Sciences, (2) Health Sciences, (3) Economics, and (4) Social Sciences. The panels brought together key stakeholders from industry and academia across the globe to discuss how disruptive ideas and technologies affect their sector.
o "Disruptive Technologies in Health Sciences", Moderator: Orhun K. Muratoğlu (MGH), Panelists: Umay Şaplakoğlu (GE), Cengizhan Öztürk (Boğaziçi), and Canan Dağdeviren (MIT).
o "Turkish Economy: Challenges and Opportunities", Moderator: Ayşe İmrohoroğlu (USC), Panelists: Daron Acemoğlu (MIT), Ufuk Akcigit, (University of Chicago), and Refet Gürkaynak (Bilkent).
o "Society Changing Ideas-Founding of Turkey", Moderator: Can Erbil (Boston College), Panelists: Ayşen Candaş (Boğaziçi University and Yale), Mehmet Derviş Kılınçkaya (Hacettepe), Cağdas Şirin (Chobani) and İlhan Başgöz (Indiana Uni)
o "Disruptive Information Technologies", Moderator: Charles DeLisi (Boston University), Panelists: Feyzi Çelik (OnePin), Deniz Kural (Seven Bridges), and Yalçın Ayaslı (TCF).
o "Challenges and Opportunities in Turkish Academia", Panelists: Can Simga-Muğan (İzmir Ekonomi Uni), Yıldırım Üçtuğ (Atılım Uni), and Esra Gençtürk (Özyeğin University).
o "Research Universities in Turkey", Moderator: Haluk Özen (Hacettepe), Panelists: İbrahim Uslan (Gazi), Mustafa Verşan Kök (METU), and Mehmed Özkan (Boğaziçi)
We are grateful to everyone that took part in the conference especially our sponsors, speakers and of course the attendees for making this conference possible. We also thank Boston University for their kind support and hospitality. This conference was made possible by the volunteers who put countless hours organizing the event. We would like to thank them for their tireless commitment and perseverance to make TASSA'2018 an event to remember.
Please see the videos on the TASSA USA 2018 Conference channel https://vimeo.com/channels/tassa2018
Dr. Kenan Şahin, President of TIAX
Assistant Prof. Canan Dağdeviren, MIT Media Lab
Associate Prof. Ufuk Akçiğit, University of Chicago
Prof. Daron Acemoğlu, MIT
We would also like to use this opportunity to welcome your feedback about the conference. If you were with us in Boston and would like to provide your opinion please contact us at ed@tassausa.org.
Looking forward to seeing you in 2020!