Meet the Yellow Box©: New Lab Space at MIT Media Lab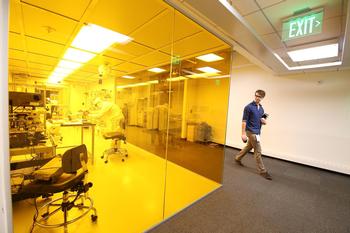 The Media Lab's new lab space—which we call the "YellowBox©"— is devoted to our group's exploration of novel materials, device design, and fabrication strategies to create micro- and nanoscale electromechanical systems with mechanically adaptive features, which allow intimate integration with the objects of interest.
YellowBox© is the first-of-its-kind cleanroom built inside the Media Lab, and the key facility to accomplish the Conformable Decoders group's research endeavors, which is directed by Canan Dagdeviren. The physically transparent YellowBox© has glass walls, is equipped with cameras to track researchers and processes in real time, and has a special operation room ("the chase") to manipulate and hack traditional microfabrication tools for our evolving research needs. YellowBox© consists of three major components: a gowning area, a specimen preparation room of Class 10,000 of approximately 300 sq. ft., and a cleanroom of Class 1,000 of approximately 400 sq. ft.