TASSA Participates at the Euraxess Joint Mentoring Initiative Meeting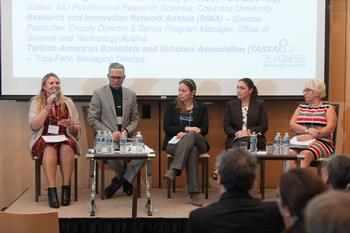 On 5-6 December 2016 TASSA participated in the 2nd Annual Meeting of the European Scientific Diasporas in North America. The opening reception took place at the Embassy of Austria, Washington D.C. on December 5 followed by the full event at the Embassy of Slovakia, Washington, D.C. on December 6. The focus and topic of the meeting was "Joint Mentoring Initiative for European Researchers" where participants discussed successful mentoring strategies, formats of existing formal mentoring programs within the North American scientific diaspora communities, and the possibilities and challenges lying ahead for setting up a Europe wide mentoring initiative.
TASSA's managing director Dr. Tuba Fehr represented TASSA at the meeting and participated on a discussion panel titled "Dialog: Vision for a Joint European Mentoring Program". Dr. Fehr talked about a mentoring initiative TASSA is planning to launch in 2017 focused on career development of young Turkish researchers, and about her vision for how a Joint Mentoring Initiative for European Researchers could look like under the Euraxess umbrella. Dr. Fehr has worked on several mentoring initiatives over the course of her postdoctoral training, including setting up the foundation for an informal postdoc mentoring program at her institution and co-authoring a postdoctoral Individual Development Plan for career development for early career researchers. She has also worked on nationwide surveys on the assessment of formal mentoring programs in U.S. and Canadian medical schools as a steering committee member of the Graduate Research, Education and Training Group at the American Association for Medical Colleges (AAMC).
Along with Dr. Fehr, representatives from various North American Diaspora communities including Austrian, German, Greek, Italian, Portuguese and Spanish scientists were present and talked about their successful mentoring programs for young researchers following keynote speeches on "Formal mentoring programs: Promoting best practices for mentors and mentees" by Dr. Joanne Kamens, Executive Director, Addgene and "Preparing Young Scientists: More than just Science" by Dr. Erik Lee Snapp, Director of Graduate and Postdoctoral Programs, Janelia Research Campus. All the presentations from the 2nd Annual Meeting of the European Scientific Diasporas in North America are available through the Euraxess Website.