TASSA congratulates Turkey's own Prof. Aziz Sancar for receiving the Nobel Prize in Chemistry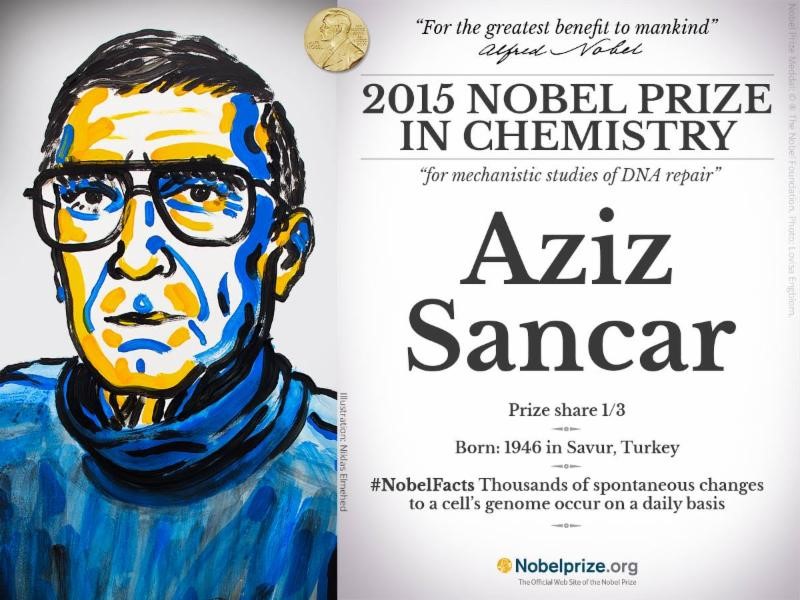 Along with Thomas Lindahl, Paul L. Mordrich,  Aziz Sancar was awarded the Nobel Prize in Chemistry for his work on the mechanism of DNA repair this Wednesday.
Prof. Sancar is the Sarah Graham Kenan Professor of Biochemistry, at the University of North Carolina at Chapel Hill, a member of the National Academy of Sciences since 2005, a member of the Turkish Academy of Sciences since 2006, and an honorary member of TASSA since 2006.
He was born in 1946 in Savur, a district of Mardin Province of Turkey into a farmer family with eight children.  He received his medical degree from Istanbul University in 1969, and his Ph.D. from the University of Texas in 1977.
Answering the questions of Adam Smith of Nobelprize.org, Prof. Sancar said he was asleep when the phone rang. His wife answered the phone and gave him the good news. "I was not expecting" he said, "I was very surprised."
He is the first Turkish scientist to receive the Nobel Prize.  Orhan Pamuk was the first Turkish Nobel laureate, who received the prize in literature.
In a phone interview with HaberTurk TV channel of Turkey, Prof. Sancar said "I am happy for myself, but I am also very happy for my home country, because it gave me an outstanding medical education which established the foundation of my current success. Thus, I am very grateful to my homeland."
During the past three and a half decades, Prof. Sancar has been studying the DNA repair mechanism.  He and his research team identified several genes and pathways that form the DNA repair mechanism, which is extremely important in maintaining the integrity of genetic material in each cell of the body, despite random mutations and environmental insults.   Their findings have great implications for cancer and cancer therapy.
Prof. Sancar is also the co-founder of the Aziz and Gwen Sancar foundation, a non-profit organization that helps Turkish graduate students and visiting Turkish scientists. Carolina Turk Evi of the foundation is a permanent Turkish Center in close proximity to the campus of UNC-CH, which provides graduate housing for Turkish researchers at UNC-CH, short term guest services for Turkish visiting scholars, and a center for promoting Turkish-American interchange.
Prof. Sancar recently twitted the following message for his followers; "My biggest dream is that one day in the future, our children would read about my findings in their books and say that a Turk did these, thus I can do it too."
As TASSA family, we send our heartfelt congratulations to Prof. Sancar for this monumental achievement.