Young Scholar Profile: Mustafa Karabas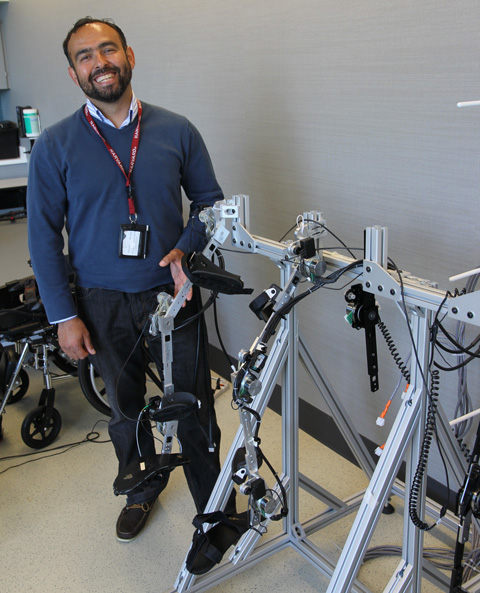 In every issue of The Bridge, we highlight a young scholar profile from our diaspora. These accomplished and early career individuals demonstrate the potential of next generation Turkish-American scientists and scholars. The young scholar in this issue is Mustafa Karabas,  Staff Mechanical Engineer of Advanced Technology Team, at Wyss Institute of Harvard Univesity.
The Bridge:  Would you please tell us about yourself and your journey that led you to become a scientist?
Mustafa Karabaş:  I was born in Ankara in 1978, and was raised in Mersin. I had to drop out of school during my adolescent years due to family issues. I then re-started my education as a high school freshman after getting my elementary and middle school diplomas through the external yearly exams.
At high school, it was obvious to me that I was enjoying the science classes more than others. I was obsessed with solving every single math, physics, chemistry, and biology problem.  When I was a sophomore in high school, it was clear to me that I wanted to become an engineer. However, figuring out what major in engineering was still a question for me until the end on my senior year. Then, I thought that mechanical engineering programs would give me more perspective in engineering if I could cultivate myself in electrical and software areas on the side as well. Therefore I decided to study mechanical engineering.
During college years, my dream was always to continue my education abroad, specifically in Germany. However, after graduation, I realized that most German grad schools require English language proficiency as a requirement for admission. I thought that learning English and taking the required exams for grad schools in the USA would give me more options along my journey including schools in Germany.
I came to the US without knowing a single word of English. I initially spent time learning English. And within 8 months, I obtained proficiency and completed my applications for grad school. Ironically, I had not applied to any programs in Germany. The life just brought another and better opportunity in front of me. Then among a few admission offers, I decided to attend the University of Pennsylvania for a Master's program in Mechanical Engineering.
T.B. :  Tell us about your research and how it is related to everyday life or other fields.
M.K. :  I work as an Advanced Technology Engineer at the Wyss Institute at Harvard University. 
My expertise is in translating an idea or concept for a medical device or product into reality and I work on many different projects. The developed devices or technologies would go out the door as a start-up company formed from our labs, or as a license of the IPs to an established company, or as a start point of clinical studies for the next few years before becoming a product.
As a tangible example, I work on designing a rigid lower limb exoskeleton for rehabilitation of the kids with cerebral palsy. The importance of the project is there is not many exo applications for the kids out there. By developing an exo for the kids with cerebral palsy, we are aiming that kids can have a surgery for multiple joint correction which leads to shorter rehabilitation time and provide them improved range of motion. The system will take %100 of the control at the beginning and then, based on the rehabilitation progress, will slowly give the control to the subject. I watch my son's walking and running gaits every day. Therefore, I know that even a small improvement on those kids' walking gaits not only improves their social and physical capabilities but also gives their family happiness and hopes for the future. And knowing this makes me the happiest man alive. We will start subject testing in near future.
Another example is Hydrostatic Device for Esophageal Atresia. As a project manager on this project, I collaborate with a team from Boston Children's hospital. We have developed a non-invasive device and procedure that will replace a procedure for treating Esophageal Atresia, which is invasive and requires induced coma for the babies. Our method is based on tissue growth under tension. The device will reduce the risks of complications resulted from induced coma and reduce the duration of hospitalization. The device is in animal model testing phase and the results are promising.
In all these projects, I collaborate with faculty and clinicians, advise them about design limitations, product development process, FDA regulations, and IP strategies, and help with preparing the grant applications and publications, as applicable. In addition, I manage research scientists, doctorate and post doctorate students, undergrad students, and sometimes high school students working for the projects
T.B. :  What do you consider important to your success?   Tell us about any skills or habits that you think helped you to become a successful scientist at such a young age.
M.K. :  Passion is very important. I give %100 of my energy when I do anything. Doing your best at everything, being a good team player, being an individual with constant starvation to knowledge are all critical for success
T.B. :   What are your immediate and long-term goals for the future?
M.K. :  In the short term, I really would love to continue what I am doing – designing devices and changing lives of the people who use those products for the better.
My long term goal is to start a non-profit organization to help young kids conceptualize and design their own life by talking, listening, and reaching to the people whom they may usually not have an access to. It is important task because when you change the life of a young person for the better, you change the lives of a family and a community. I believe that I have the energy, heart, and determination to make it happen in the future.
T.B. :   What do you recommend to aspiring scientists , or to young Turkish scientists who are at the beginning of their careers?
M.K. :  Do not let anyone discourage you on things that you are committed to do. Know your limits and follow your heart.  If you still fail, fail spectacularly so that you can write a book about it!
Life is not easy; the road is rocky and it is fine to be scared but it is just the process that everybody goes through. Be consistent, keep your integrity high, trust your instinct, and keep working. Nothing good comes easy. You will be fine as long as you work hard and still enjoy.
T.B. :   Could you please tell us about your life outside of your work? Do you have hobbies? What are your favorite activities? If you recommend a book, what would that be and why?
M.K. :  I am a man who believes that the home is my sanctuary. I barely take work to home. For me, home is my personal resort to heal and rejuvenate my mind to get ready harder challenges in life. In that matter, I just focus on my family when I am home and my family is my everything.
My job is my hobby. Therefore, I am one of those luckiest people in the world who work on their hobbies full time!
As a family, we are world travelers, we travel two to three times a year. Even after our son was born, we have not stop traveling and spending time outside. As parents, we have to do things making us happy so that we can naturally pass our happiness to our child.
I work out 4-5 times a week to keep my mind and body healthier. With the busy schedules of our works, it is hard to work out 4-5 times a week. When I realized that many years ago, I developed this habit of working out during lunch time.

I am sure that everyone in our fields reads tons of technical writings. I will just recommend a few books from different perspective that I believe everybody could benefit; 1-) Don Miguel Ruiz's "Four Agreements"  and 2-) Robin Sharma's "Family Wisdom" . These two books are going to give you different ways to look at the events in your personal life and stretch your patience level. The balance is needed to be successful at your personal and professional life. Never put one of it aside; Otherwise it will be nearly impossible to catch it up later. Become a master of both at the same time!