Introduction of the Board Members: Füsun Özgüner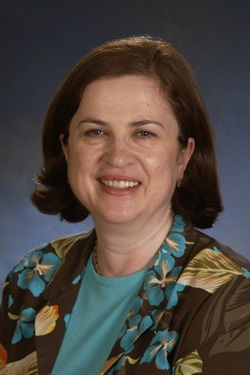 On behalf of the editorial team of TASSA we are pleased to introduce the members of our Board of Directors, who have agreed to graciously share their thoughts on TASSA and its activities, as well as information about themselves with our readership. In this issue we feature Füsun Özgüner, professor of Electrical and Computer Engineer at The Ohio State University.
The Bridge: Could you please give us a brief summary of your background?
Füsun Özgüner: I received the M.S. degree in electrical engineering from the Istanbul Technical University in 1972, and the Ph.D. degree in electrical engineering from the University of Illinois, Urbana-Champaign, in 1975. I worked as a post-doctoral researcher at the I.B.M. T.J. Watson Research Center, Yorktown Heights, New York for one year and joined the faculty at the Department of Electrical Engineering, Istanbul Technical University in 1976. I spent the summers of 1977 and 1985 at the I.B.M. T.J. Watson Research Center and was a visiting Assistant Professor at the University of Toronto in 1980. Since January 1981 I have been a professor of Electrical and Computer Engineering at The Ohio State University and served as the Interim Department Chair from 2004 to 2006.
T.B.: Could you also summarize your research program/area of study?
F. Ö: My current research is in parallel and fault-tolerant computer architectures, multicore chips, heterogeneous distributed computing, real-time parallel computing and communication, cybersecurity in intelligent vehicles and mobile networks, cyberphysical systems. My research has been funded by the National Science Foundation, NASA, Air Force Research Labs, US Department of Transportation and industrial sponsors such as IBM and Honda. Currently I have grants from the Department of Transportation and the National Science Foundation. I have served as an associate editor of the IEEE Transactions on Computers and as program co-chair and general chair for several international conferences. I have advised to completion 20 Ph. D students who have moved on to academic positions in the US and Turkey or are employed by major computer companies such as Intel, Google and IBM. I have published over 150 papers in journals and conference proceedings.
T.B.: Would you please tell us about your involvement with TASSA, its importance to you, and your vision for the future of TASSA.
F. Ö: I have been on the board of directors since 2012. I attended TASSA conferences in Boston and Maryland (2012). I was part of the group that visited the State Department in 2012. I organized a seminar at Ohio State that was attended from all over Ohio and web cast; I also recruited student members to TASSA.
TASSA is important to me because I met Turkish scholars through TASSA and found some old friends. My vision for TASSA is that it continues activities to strengthen interactions between scientists in Turkey and the US.
T.B.: What, in your opinion, can be done to increase the collaboration and strengthen the bridge between scientists and scholars in Turkey and the Turkish-American scientists and scholar in the US? And how can TASSA, in your opinion, contribute to it?
F. Ö: Support/facilitate existing collaborations between faculty in Turkey and the US and facilitate new collaborations: This is already happening to some extent but requires resources. More frequent meetings (maybe regional) in addition to the Biennial meetings where faculty and graduate students from Turkey are invited could help. These could be in a more informal setting without talks from prominent leaders where both graduate students and faculty can present their research.
Graduate student exchange programs: define programs where graduate students from Turkey can spend a semester or a year in a US university lab to carry out their Ph. D. research. This needs to be discussed with the universities in Turkey and possibly YOK. This would naturally lead to more collaboration and would benefit both parties.
T.B.: Are there any projects that TASSA is undertaking that you are excited about and why?
F. Ö: - 2014 TASSA conference's focus on "Women, Science, Engineering and Social Sciences" - The Bridge Newsletter and getting to know new successful Turkish scientist through it.
T.B.: Could you please tell us about your life outside of your work? Do you have hobbies? What are your favorite activities? If you recommend a book, what would that be, and why?
F. Ö: Outside of work, my major hobby is music. I enjoy going to concerts, opera and playing the piano. I also enjoy traveling with my husband Umit to see new places, visit museums, and most of all spend time with our 2 grandchildren who live in Seattle.