Introduction of the Board Members: Ayşe Imrohoroglu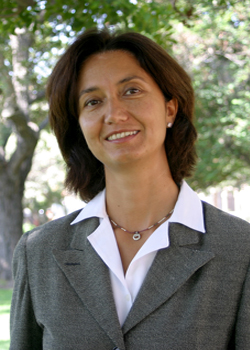 On behalf of the editorial team of TASSA we are pleased to introduce the members of our Board of Directors, who have agreed to graciously share their thoughts on TASSA and its activities, as well as information about themselves with our readership. In this issue we feature Ayşe İmrohoroğlu, Professor of Finance and Business Economics, University of Southern California, Marshall School of Business.
The Bridge: Could you please give us a brief summary of your background?
Ayşe İmrohoroğlu: I grew up in Ankara. I went to Ankara College for high school and completed my BA degree in Economics at the Middle East Technical University. I came to the United States in 1981 and received a PhD in Economics from the University of Minnesota. I started my academic career as an Assistant Professor at the University of Southern California in 1987. Currently I am a full professor at USC, having also served as the chair of the Finance and Business Economics Department between 2004 and 2007.
T.B.: Could you also summarize your research program/area of study?
A. İ .: I have worked on many topics ranging from the welfare costs of business cycles to optimal social security programs to analyzing the decline in the crime rate in the United States. The main focus of my research has been in creating `real' looking economies in the computer and trying to gain insights about the real world based on how individuals in these economies made decisions. I was shocked to find out for example, that the pay-as-you go social security system that exists in many countries is not a very desirable system. It stifles savings and capital accumulation, resulting in lower GDP. I was equally surprised to find out that the performance of the Turkish economy in the 60s, often considered a high growth period, was not so impressive when it was compared with the performance of what one might call the `peer' economies such as Spain, Greece and Portugal.
T.B.: Would you please tell us about your involvement with TASSA, its importance to you, and your vision for the future of TASSA.
A. İ.: I joined TASSA because of its scientific mission. I think many of us living outside Turkey would love to find a way to be useful and helpful for Turkey. When Haluk Unal asked me to join, one of the ideas he had was to create online classes using the Turkish talent in the US and providing them for free to all the students in Turkey. I still hope we can do that some day. But the importance of TASSA for me is the potential for being useful to the academic and scientific community in Turkey.
T.B.: What, in your opinion, can be done to increase the collaboration and strengthen the bridge between scientists and scholars in Turkey and the Turkish-American scientists and scholar in the US? And how can TASSA, in your opinion, contribute to it?
A. İ .: The biennial conference that TASSA organizes is a very important step in this direction.
T.B.: Are there any projects that TASSA is undertaking that you are excited about and why?
A. İ.: I really like the TASSA newsletter, the biennial conference, and the Young Scholar Awards. There are many incredibly impressive Turkish researchers in the United States. TASSA newsletter is an important medium through which we can be aware of them. Identifying, giving awards, and publicizing their work provides an important service to the Turkish community.
T.B.: Could you please tell us about your life outside of your work? Do you have hobbies? What are your favorite activities? If you recommend a book, what would that be, and why?
A. İ .: Outside of work I love to cook and get together with friends and family. I also enjoy travelling. I love getting on a plane and finding myself in a totally different country. While in LA I love going to the beach especially during times of low tide.
I must confess that lately I find very little time to read. Currently I am reading Orhan Pamuk's Kafamda Bir Tuhaflik, but it is taking me longer than I like. His book Kar was the one I had totally adored.