Ziya Gokaslan, MD, Named Chief of Neurosurgery at Rhode Island and The Miriam Hospitals; Neurosurgery Chair at t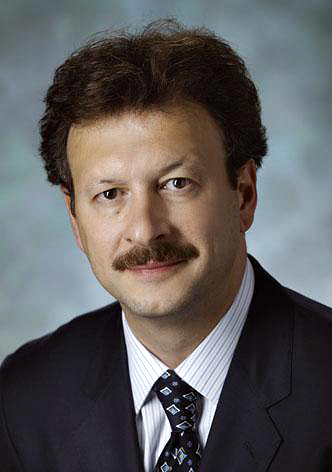 Considered one of the nation's top neurosurgeons, Gokaslan has developed many novel approaches for resection of pancoast tumors, spinal neoplasms and sacral tumors
Ziya L. Gokaslan, MD, FACS, has been appointed chief of neurosurgery at Rhode Island Hospital and The Miriam Hospital, and chairman of the department of neurosurgery at The Warren Alpert Medical School of Brown University, effective July 1, 2015.
In this role, Gokaslan, who comes to Rhode Island from Johns Hopkins University School of Medicine, will lead all clinical, research and teaching efforts in neurosurgery across the entire Lifespan system. In addition, he will serve as the clinical director of the highly regarded Norman Prince Neurosciences Institute where he will be responsible for continuously enhancing collaboration and advancement among the institute's neurosciences faculty and the Brown Institute for Brain Science.
"We are thrilled to welcome Dr. Gokaslan, an internationally renowned neurosurgeon, to Lifespan," said Timothy J. Babineau, MD, president and chief executive officer of Lifespan. "Dr. Gokaslan's remarkable achievements and expertise will further advance Lifespan's commitment to becoming a national leader in the area of neurosurgery and neuroscience. We were fortunate to be able to attract one of the very best in the country to Lifespan and Rhode Island."
"Dr. Gokaslan is a skilled surgeon, a talented educator and scientist, and he understands the strength of academic medicine," said Jack A. Elias, MD, dean of medicine and biological sciences at Brown University. "His mentorship of medical students, residents and fellows is well known, and we admire his dedication to the advancement of knowledge in the neurosciences."
Most recently, Gokaslan has served as the vice chairman of the department of neurosurgery, director of the neurosurgical spine program, director of the neurosurgical spine metastasis center and a professor of neurosurgery, oncology and orthopedic surgery at the Johns Hopkins University School of Medicine in Baltimore, Maryland. Prior to joining Johns Hopkins, Gokaslan was an associate professor of neurosurgery at the University of Texas MD Anderson Cancer Center in Houston and served as deputy chair of its department of neurosurgery.
Gokaslan's clinical practice focuses on the radical surgical treatment of both primary and metastatic spinal tumors, sacral neoplasms and spinal cord tumors. He developed many novel approaches for resection of pancoast tumors, spinal neoplasms, as well as sacral tumors, including total sacrectomy and complex spinal and pelvic reconstruction. Gokaslan transformed the surgical treatment of spinal neoplasms and devised techniques rendering certain tumors resectable once deemed inoperable. These led to significant improvement of survival in patients with various neoplastic conditions. His basic research focuses on the development of new animal models to study the pathophysiology of neoplastic spinal cord compression and to define the roles of proteolytic enzymes in tumor invasion and to devise novel therapeutic approaches to treat spinal tumors.
He is a prolific researcher serving as principal investigator and collaborator on numerous projects regarding spinal oncology and surgery. He has authored over 300 peer-reviewed papers and presented more than 250 national and international lectures since 1996. He has authored and co-authored four book and numerous book chapters. He serves on the editorial boards of top academic journals, including the Journal of Spinal Disorders & Techniques, European Spine Journal, Nature Reviews in Neurology, the Journal of Surgical Oncology, and World Neurosurgery. He also served as co-editor of Journal of Neurosurgery-Spine from 2012 to 2013. He is a member of numerous prestigious societies, notably the Society of Neurological Surgeons, the Cervical Spine Research Society, the American Society of Clinical Oncology, the American Association of Neurological Surgeons, the Congress of Neurological Surgeons and the North American Spine Society as well as Scoliosis Research Society. He is also a past president of the American Association of Neurological Surgeons/Congress of Neurological Surgeons' disorders of the spine and peripheral nerves section.
Gokaslan was recently awarded the Leon Wiltse Clinical Research Award by the North American Spine Society for his excellence in leadership and clinical research in spine care. He has been voted one of the "Best Doctors in America" since 2005 and has received Baltimore Magazine's "Top Doctors" recognition since 2007. He is also the recipient of the "Patients Choice Award," "Most Compassionate Doctor Award," and is on the "List of Castle Connolly America's Top Doctors."
Gokaslan earned his medical degree from the University of Istanbul, Turkey. He completed an internship in general surgery, a fellowship in neurotraumatology and a residency in neurosurgery at Baylor College of Medicine in Houston, Texas. From 1993 to 1994, he was a fellow in clinical spinal surgery at New York University Medical Center.
Source: http://www.lifespan.org/