Onyuksel and Sekercioglu Receive TUBITAK 2014 Special Prize
by Bahri Karacay
Each year, The Scientific and Technological Research Council of Turkey (TÜBİTAK) , a governmental organization leading the management, funding and conduct of scientific research in Turkey, recognizes the accomplishments of outstanding scientists with a prize in three different categories: science, special and incentive. This year Scientific Board of TUBITAK presented 3 science, 2 special, and 14 incentive prizes to individuals whose scientific work contributed significantly to their respective fields.  

The "Special Prize" is given to Turkish citizen scientists residing outside of Turkey who made significant contributions to their fields internationally.  Hayat Onyuksel, a professor of Pharmaceutics and Bioengineering in the Department of Biopharmaceutical Sciences at the University of Illinois in Chicago, and Çağan Şekercioğlu, an assistant professor in the Department of Biology, at the University of Utah,  are the recipient of this year's "Special Prize."

Dr. Onyuksel received the award for her studies on cancer, and particularly targeted nanomedicine which uses an innovative technology to deliver the drugs specifically to the diseased sites of the body. The approach is particularly suitable for cancer therapy which uses drugs that are very toxic. Due to their harm to healthy cells in the body, clinical doses of cancer chemotherapy drugs are currently limited.  Dr. Onyuksel and her research team's approach provides higher drug efficacy, while significantly reducing drug toxicity allowing use of higher drug doses without causing damage to the healthy tissues.
"This award means a lot to me" says, Dr Onyuksel.  "First, it is the most prestigious recognition that a scientist can get in Turkey. Second, I left my country many years ago to be able do the research that I was not able to do in Turkey. That was not an easy decision and this award confirmed that my sacrifices and hard work was all worth it. I am humbled to see that the country that I am born and raised still remembers me and appreciates my work. I believe that I have contributed to science and Turkey more by doing my research at USA."
Dr.  Şekercioğlu received the award for his studies on threatened biodiversity and ecosystems, causes and consequences of bird extinctions, including meta-analyses of a world bird ecology database his group compiled. He also studies conservation ecology of carnivorous mammals in eastern Turkey and conduct community-based conservation and restoration projects.
"I am humbled to be the first ecologist, ornithologist and conservation biologist to receive Turkey's highest scientific honor," says  Dr. Şekercioğlu. "In Turkey, young people interested in science often choose engineering. I hope this award will inspire more young people to choose natural sciences in general and environmental sciences in particular."  Dr. Şekercioğlu is also the founder of the Turkish environmental organization KuzeyDoğa Society, that aims to protect wetlands of Turkey that are home for 258 bird species, 36 of which are threatened or endangered.
The Special Prize for 2014 is comprised of 50,000 Turkish Lira along with a gold plaque and an award certificate. Prizes of Drs. Onyuksel and Şekercioğlu were presented to them by the president of Turkish Republic, Recep Tayyip Erdogan, at an award ceremony held in Ankara.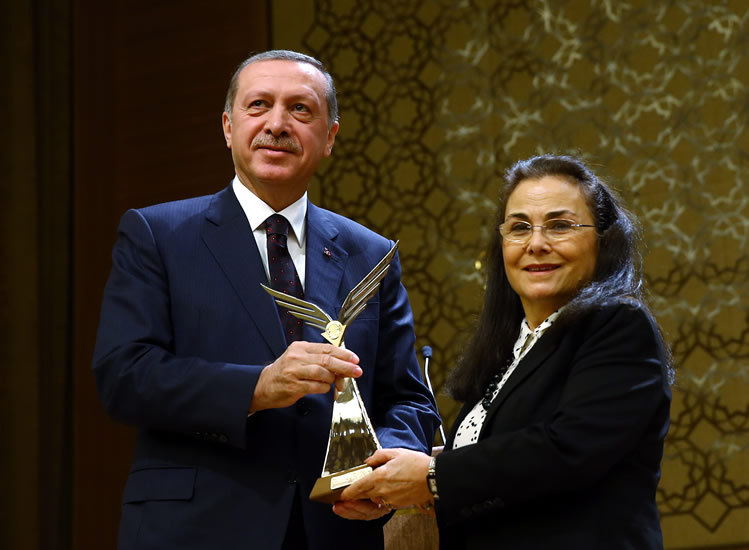 Dr. Onyuksel receiving her award from the President of Turkey, Recep Tayyip Erdogan.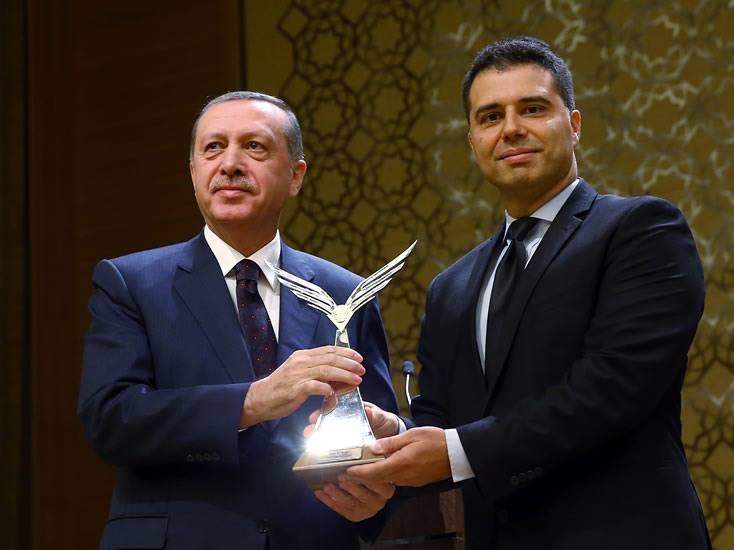 Dr. Sekercioglu receiving his award from the President of Turkey, Recep Tayyip Erdogan.