A Conversation with Burcu Akıncı
In every issue of The Bridge, we aim to introduce a member of our diaspora. These individuals touched the lives of many by their research, teaching or service activities. They are mentors who train the next generation of scientists, they are innovators whose innovations make our lives better, they are teachers who educate hundreds of students. But they all have one thing in common; they make a difference.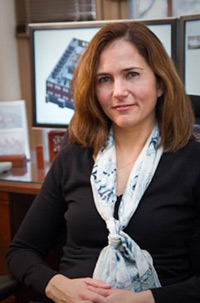 Our guest on this issue of The Bridge is Burcu Akıncı, Paul Christiano Professor in the College of Civil and Environmental Engineering of Carnegie Mellon University.
The Bridge: Could you please give us a brief summary of your background?
Burcu Akıncı: I am a third generation civil engineer who is married to a civil engineer. My brother and his wife are also civil and environmental engineers. You can say that civil engineering is in our blood… This is somewhat unique in the sense that our family was included in the ASCE book called "All in the family – Civil Engineering Legacy Stories1 . Just as a quick summary of my professional background: I received my BS in Civil Engineering from Middle East Technical University in 1991 and my MBA from Bilkent University in 1993. I pursued my MS and PhD studies in Civil and Environmental Engineering at Stanford University. I have been a faculty member at Carnegie Mellon since 2000 and co-directing Smart Infrastructure Institute at Carnegie Mellon for the last two years.
T.B. : Could you also summarize your research?
B.A. : My research focuses on streamlining construction and facility/infrastructure management decisions through usage of information and communication technologies. Facilities and infrastructure systems are critical assets of any nation and yet many decisions are made with limited information during the construction and operations of them. My research targets relieving such information bottlenecks by integrating information contained in virtual models, such as building information models, with the data collected from a variety of sensors, depicting the as-is conditions. In terms of sensors, I specifically utilize 3D imaging sensors, radio-frequency identification systems and sensors embedded in building automation systems.
T.B. : Where do you see studies of civil and environmental engineering in Turkey? What are your suggestions to improve the research in Turkey in this area?
Both undergraduate and graduate studies in civil and environmental engineering in Turkey are highly advanced and very strong. We can do better in promoting soft skills (e.g., writing, oral communication and leadership) that many civil engineers lack into our curriculum. For graduate studies, we can foster innovation and information and communication technologies to embrace collaboration and take advantage of opportunities that big data can bring to our field. Also, many breakthroughs occur at the interfaces of disciplines; hence fostering interdisciplinary collaboration and thinking would be beneficial for all.
T.B. : Would you please tell us about the current status of collaboration between the US and Turkish research institutions in your field?
B.A. : Two of my former doctoral students work as faculty members at Istanbul Technical University and Middle East Technical University. Moreover, I have been collaborating closely with Esin Ergen from Istanbul Technical University, and Talat Birgonul, Irem Dikmen Toker and Ozgur Kurc from Middle East Technical University on a large Tubitak funded research project. In addition to these research activities, Talat Birgonul, Irem Dikmen and I have been teaching an international course with faculty and student participants from Turkey, USA, Brazil and Israel. This is a very unique project-based course on international collaborative construction management within which the students from all there countries form virtual joint-venture companies and evaluate construction of a facility in different countries. Finally, I worked closely with our department head several years ago to establish a dual PhD degree between our department and civil engineering department at Middle East Technical University.
T.B. : What can be done to increase the collaboration and strengthen the bridge between Turkey and the US? And how can TASSA, in your opinion, contribute to it?
B.A. : TASSA is already contributing significantly in strengthening the bridge between Turkey and the US (and also within the scientists in the US) through conferences, recognitions and newsletters. Based on my experience, meaningful and deep interactions occur when committed faculty members come together from both sides to work on a research project or a course. Most of these interactions require funding. A major challenge associated with that is being able to acquire joint funding with my collaborators from Turkey. While it has been stated that it is possible to apply for joint funding from our corresponding agencies, such as Tubitak and NSF, I have not been able to find a streamlined way of doing it.
T.B. : You have been mentoring many international scientists and scholars and also graduate students throughout your career, including those from Turkey. What would you advise young scientist for a successful scientific career?
B.A. : I believe that successful scientific career involves passion, dedication, curiosity and hard-work. True passion brings curiosity, dedication and hard-work naturally. Therefore, I would suggest that they follow their passion. The challenge sometimes becomes how to find one's passion. Passion develops in different ways. Sometimes it comes out from an excellent or not so good experience. For example, my passion for construction came about from observing a not-so-ideal construction project. Other times, it comes out from having a mentor or a role model. In my case, my parents and my uncle, as well as several of my faculty members at METU have been my role models. I admired them and dreamed about being a successful scientist and have my name associated with an equation (such as Bernoulli's equation). The type of research that I do does not land itself to generating an equation. Hence, I will never have an equation with my name, but I believe that I am making scientific contributions and discoveries that are of value and that make me happy and excited about my job every day.
Based on my observations, I can say that the students who arrive to our university with dedication and an attitude that is more than a "can-do" thrive the most. These students typically work hard and go beyond what one is expecting to see. It is their natural curiosity and passion that derive what they accomplish. That also does not mean that they do nothing but study all the time. In fact, these are the students that also found a healthy balance in their lives; they always have time for exercise and other extracurricular activities.
T.B. : Could you please tell us about your life outside of your work? Do you have hobbies? What are your favorite activities?
B.A. : My life outside my work revolves around my kids. I have three children and their activities are my hobbies. I am striving towards a good soccer and basketball mom in my free time. Recently, I have picked running and yoga as additional hobbies. I have never been a runner in my life and I ran my first 10K last year. That is a big accomplishment that I am proud of.
-------------------------
1 http://openweb.asce.org/files/foundation/All-In-The-Family---ASCE-Foundation/#?page=10