TASSA President Haluk Unal Addresses the Attendees of the European Science Diaspora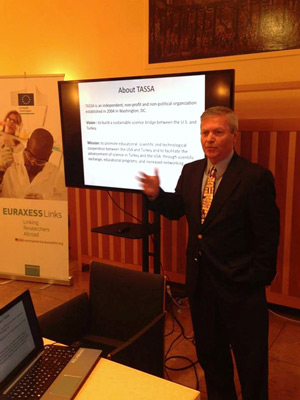 The workshop, which was moderated by the European Union Delegation to the USA, was attended by the Science Counselors/Advisors from the embassies of: Italy, Austria, Germany, France, Spain, Poland, Ireland, Greece, Turkey, Slovenia, Slovakia, Croatia and Portugal.  TASSA attended the first working meeting of representatives of various US-based European national Scientific Communities held at the Embassy of Italy in Washington DC on Friday, November 14th , 2014.  TASSA President Haluk Unal and TASSA Vice President Levent Guntay represented TASSA at the meeting. Arif Hakan Yeter from the Embassy of Turkey also attended the meeting.

Dr. James Gavigan – Minister Counselor for Research and Innovation at the EU Delegation to the US chaired the workshop.  Dr. Gavigan highlighted the fact that from both a national and European perspective, it is interesting and relevant to identify such national communities of European scientists in the US, to understand the valuable role they play as well as potential added value which can come from networking and collaboration between such communities.  He suggested that the workshop help to generate 'bridges' between these communities and to identify possible concrete actions to strengthen that communication. He underlined the importance of openness and sharing of ideas to the discussion.
TASSA president Haluk Unal gave a presentation discussing the role and activities of TASSA. He informed the participants on TASSA's membership base, TASSA-organized conferences and events, The Bridge newsletter, TASSA Connect, and future projects such as the TASSA Academy. He also suggested the organization of a conference on WISE (Women in Science and Engineering), which can be a common field of interest to all communities as well as the European Commission.
Overall, the participants recognized the value of an initiative, which allows for the first time, sharing of experiences, practices and challenges and potential joint activities. They concluded the future meetings should continue to promote the exchange of knowledge and best practices among communities – focusing on a more bottom-up approach and the use of the EURAXESS Links NA website as an "operational" platform for the Informal European Communities Network of Scientists in the US.