Gokhan Hotamisligil is to lead the Sabri Ulker Center at Harvard with a $24M gift
by Bahri Karacay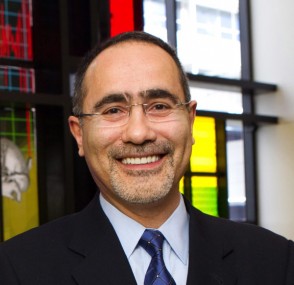 Ulker biskuvi is a very familiar and appealing name for those of us who grew up in Turkey. The company, established in 1944 by Sabri Ulker, has been on the radar of Wall Street as the former owner of the Godiva chocolates and as the producer of Cola Turka, which according to some sources, cut the profit of Coca Cola by 10%. Recently the Ulker family made a historic $24M donation to Harvard University's T.H. Chan School of Public Health to establish the Sabri Ulker Center for Nutrient, Genetic, and metabolic Research. The center will be led by one of our own, a TASSA member, Gokhan Hotamisligil, the J.S. Simmons Professor of Genetics and Metabolism, and the chair of the Department of Genetics and Complex Diseases at the School of Public Health.
"The gift comes at a time of great need for our basic research" says Dean Julio Frenk in a press release, "chronic metabolic diseases are skyrocketing worldwide."
Obesity is considered by many experts as one of the most serious public health problems of the 21st century. It is a leading cause of preventable death worldwide and becoming an epidemic even among children, particularly in the developed world. The American Medical Association classified obesity as a disease in 2013. Many diseases including diabetes, heart disease, stroke, and several types of cancers are also triggered by obesity. Although still a developing country, Turkey is not immune to the obesity problem. Turkish Statistical Institute, a government agency monitoring the national trends in Turkey, reported that rate of overweight Turks over the age of 15 increased from 31.2 percent in 2010 to startling 34.8 percent in 2012.
"We hope this contribution to science will benefit humanity greatly and we have every confidence in Professor Hotamisligil" says Ali Ülker, grandson of Sabri Ülker and vice chairman of the Yıldız Holding board of directors.
As "The Bridge" editorial team, we reached Dr. Hotamisligil to ask a few questions regarding the gift and The Sabri Ulker Center for Nutrient, Genetic, and metabolic Research.
The Bridge: Would you please say a few words about the newly established Sabri Ülker Center for Nutrient, Genetic, and Metabolic Research? How did the idea originate and what was the thought behind it? And what will be the impact of this donation on your research program?
Gökhan Hotamisligil: First of all, I must say that I am tremendously grateful for the extraordinary generosity of the Ülker family for this visionary gift. This is realizing a personal and professional dream and we feel extremely fortunate to be the beneficiaries of this generosity. This gift and the resulting Center could not have come to life in a more critical time as we are experiencing the greatest gap between the scientific opportunities resulting from revolutionary advances in life sciences and the resources available to pursue them, especially in project with long term goals. An important motivation behind this gift was to enable vigorous, long term and uninterrupted research and training in a most critical area for global health. With this motivation, this is not a one time investment just for our intrinsic research activities but a living investment that carries the hope of benefiting a large section of the global community while honoring our country, Sabri Ülker and his family, our Institution, and of course, our laboratory.
As a result, Sabri Ülker Center was established to strengthen research and training activities that are related to metabolism and chronic metabolic diseases. These health problems, including diabetes, cardiovascular disease and obesity, have now become the greatest global public health threat and the currently available preventive and therapeutic strategies do not meet the needs. While this chronic disease epidemic is relentlessly growing, neither the scientific not the industrial efforts are able to match this growth and the introduction of new medicines and preventive tools have therefore been very slow and difficult. The center will focus on this deficiency and will invest in pursuing new and fundamental mechanisms underlying metabolic health and disease. We will also attempt to develop new and innovative strategies to address this urgent and alarming need.
One strategy we are excited about is the building of new platforms to identify and investigate natural nutrients and metabolites that are part of our natural environment at a much larger scale and resolution than currently possible. We are envisioning that these platforms may then allow interrogation of the biological functions of individual molecules, identify their potential beneficial and harmful activities, and harness this knowledge to introduce practical and affordable intervention tools that could be available to those in need. Another source of great excitement for us is the ability to train students and fellows who will gain valuable experience in an important area of biomedical sciences and expand the network and human capital devoted to solutions.
T.B.: You have been training many American and International students in your lab during your career. Will there be an increased emphasis on training more Turkish Scientists in the Center and establishing/increasing collaborations with Turkish universities due to the gift?
G.H.: In the past 20 years, our lab has been a productive training ground for many successful students and fellows from all around the world, and many from Turkey as well. These scientists are now pursuing their independent careers in many leading Institutions, including several in Turkey, and constitute a great source of pride for us. As many in this field will know, one of the most challenging aspects of our research and training programs is to generate support for International students and fellows. This gift will now provide us greater flexibility to recruit and train talented international scientists. There will also be positions allocated to Turkish students who will benefit from Sabri Ülker named fellowship to support their studies in our laboratory. One of the long term goals of this program will of course be to build further organic ties with one or more Turkish academic Institution for collaborative projects and joint research activities.
T.B.: In a news piece published in Harvard Magazine, a biannual international symposium of the center was mentioned. Would you please tell us about your vision for these symposia? Will some of these symposia be held in Turkey?
G.H.: Yes, this is one of the most exciting aspects of the program. We will be organizing a very high level Symposium with a focus on metabolism every other year. This meeting will be hold in Istanbul and Boston in alternating years and the first one will take place in the spring of 2016 and feature leading scientists from around the world. We hope that this event will serve as a great resource for those who are interested in this area of science and will allow many students and fellows to connect with the leaders in the field and build collaborative bridges between scientists in the US and Turkey.