A Conversation with Ümit Özkan
In every issue of The Bridge, we aim to introduce a member of our diaspora. These individuals touched the lives of many by their research, teaching or service activities. They are mentors who train the next generation of scientists, they are innovators whose innovations make our lives better, they are teachers who educate hundreds of students. But they all have one thing in common; they make a difference.
Our guest on this issue of The Bridge is Umit Ozkan, a distinguished professor of Chemical and Biomolecular Engineering at the Ohio State University, College of Engineering.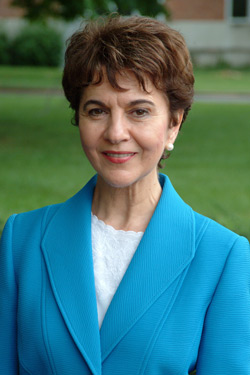 The Bridge: Could you please give us a brief summary of your background?
Ümit Özkan: I grew up in Ankara, in a middle-income family as the youngest of three daughters. I attended Robert College and majored in Science. I then attended Middle East Technical University and received my BS and MS degrees in Chemical Engineering. After that, I came to the US for my doctoral studies at Iowa State University. After getting my PhD, I started my academic career as an Assistant Professor at the Ohio State University, in 1985. I went through the ranks and became an Associate Professor in 1990 and a Full Professor in 1994. Right now, my title is College of Engineering Distinguished Professor.
In 1994-95, I was invited to spend a sabbatical year in France as a Senior Researcher in the CNRS Catalysis Research Institute in Lyon. I spent a second sabbatical year in 2007 teaching at Bogazici University for one semester and giving lectures and collaborating in research at the Claude Bernard University in France also for one semester.
Between 2000 and 2005, I also served as the Associate Dean for Research in the College of Engineering, overseeing the entire research enterprise of the Engineering College at the Ohio State University.
T. B.: Could you also summarize your research?
Ü. Ö.: My research is related to heterogeneous catalysis and electro-catalysis. Catalysts are materials that accelerate a chemical reaction without being consumed in the process. Catalysts play a very important role in many processes, and almost everything that we use in our everyday lives is produced through one or more catalytic reactions. My focus has always been on problems associated with energy and environment. The projects we are currently working on now involve alternative energy, emission control, catalytic treatment of contaminated water, electrocatalyst development for fuel cells, and converting hydrocarbons to value-added chemicals.
T. B.: Where do you see chemical engineering studies in Turkey, particularly in relation to your area of research, energy and environmental protection? What are your suggestions to improve research in Turkey in this field?
Ü. Ö.: Turkey has made great strides in the last two decades in catalysis research and its applications in energy and environmental protection. Many universities I visited have excellent research facilities. There is also a growing cadre of young scientists in this area, working with great energy and enthusiasm. I was invited to give a keynote lecture at the 5th National Catalysis Conference held in Adana in April 2014 and was very impressed with the young scientists that I met. Turkish Catalysis Society is now a member of the European Federation of Catalysis Societies. These are all very positive developments. Sustained research funding is, of course, very important. Collaboration with universities and research centers in other countries (Europe, USA, etc) is also important.

T. B.: What can be done to increase collaboration and strengthen the bridge between Turkey and the US? And how can TASSA, in your opinion, contribute to it?
Ü. Ö.: Having young scientists spend time in the US for extended periods is a good idea. Short durations, such as 6 or 9 months are not very effective. Exploring joint funding opportunities is also important.
T. B.: You have been mentoring many American, international scientists and scholars, and also graduate students throughout your career. What would you advise young scientist for a successful scientific career?
Ü. Ö.: Here are a few pieces of advice that I always share with my graduate students"
Do not settle for easy answers. Go after more challenging endeavors.
Read the literature.
Question everything, including what you read in the literature and your own research results.
Do not get discouraged and do not get frustrated. Research is never a straight line. It takes time, dedication and perseverance.
Pay attention to details.
You cannot rush quality research. It takes time and patience.
Be creative in your thinking, also be nimble in your thinking.
Take advantage of opportunities that come your way.
Believe in yourself.
T. B.: What was the best advise you ever received for your scientific career?
Ü. Ö.: I am not sure if there was one specific advise, but In the Middle East Technical University, there were excellent role models among our professors that I much admired. They certainly influenced me in my decision to pursue a doctoral degree in the US.
T. B.: Would you please tell us about your personal habits that you believe contribute to your success?
Ü. Ö.: Hard work, discipline, perseverance, paying attention to details, setting high standards for myself and my research group, caring about my group members and helping them grow to their full potential, creating a collaborative and harmonious work environment for my research group.
T. B.: Could you please tell us about your life outside of your work? We know that you write beautiful poetry and that several of your poems were used as lyrics in songs. Do you have other hobbies? What are your favorite activities? If you recommend a book, what would that be?
Ü. Ö.: I enjoy reading, taking walks, gardening. I enjoy watching French movies to improve my French. I love animals and I love spending time with animals (cats, dogs, horses….). It is difficult to recommend a book, my taste in books is very eclectic. But I can mention a book that I read recently and found very interesting: "Quiet: The Power of Introverts" by Susan Cain.