Duygu Kuzum is one of 35 Innovator under 35
by Bahri Karacay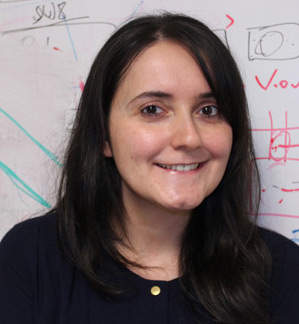 Every year, MIT Technology Review selects 35 inventors, visionaries, humanitarians, pioneers and entrepreneurs who are under the age of 35. The candidates are nominated by the public or by MIT Technology Review's editors. This year, there were 500 nominees, 80 of whom made the final round. The finalist were then evaluated by a group of judges based on originality and impact, or potential impact of their work. The "2014 35 Innovators Under 35" list also included a Turkish scientist, this year; Duygu Kuzum.
Duygu Kuzum, who is currently a postdoctoral research fellow in the Engineering and Applied Science's Department of Bioengineering at the university of Pennsylvania, is a graduate of Bilkent University (2004). She studied Electric and electronic Engineering as an undergraduate student and then received her masters (2006) and Ph.D. (2009) degrees in the same field from Stanford University.
Dr. Kuzum was chosen because of her research on development of brain-inspired chips for better computer processing and neural implants.
"I am an electrical engineer trying to develop better and faster processors for your laptops and computers" says Kuzum, in a talk that she gave at the 2014 EmTech conference. "But recently I have been interested in different kind of computation system, the human brain."
Kuzum had an a-ha moment when she compared the human brain with super computers. The human brain, a 3 pound biomass, has about 100 billion neurons and is considered as the final research frontier for humanity. However, a super computer, such as Wattson, takes about 2500 sq feet area, and almost 50 thousand processors. Furthermore, whereas the human brain uses very little energy to function and make incredible discoveries, a supercomputer would require a dedicated nuclear power plant to function. "While we are trying to simulate a human brain, we know little about how it works" says Kuzum, "We need to understand how brain works and get inspired from it in building smart systems to meet future societal needs"
Each brain cell, called neuron, communicate with about 10 thousand other neurons through the connections called synapses.The neurons do not physically touch each other but communicate via biomolecules known as neurotransmitters. It is estimated that human brain has about 1015 synapses. They are part of the brain's computing. Thus, Kuzum decided to create an electronic version of a synapse. These are nanoscale devices, each about 75 nanometer in size (one nanometer is one billionth of a meter). Using these electronic synapses, Kuzum and her colleagues built a "nanoelectric synaptic grid.
Kuzum forsees the use of her innovation, first in understanding how the human brain functions, and then building more compatible brain neuroprostetic devices that will integrate with the neurons in the brain. She also hopes that her electronic synapses will be used in development of treatments for diseases such as epilepsy that are caused by disfunction of network systems in the brain.