A Conversation with Esen Ercan Alp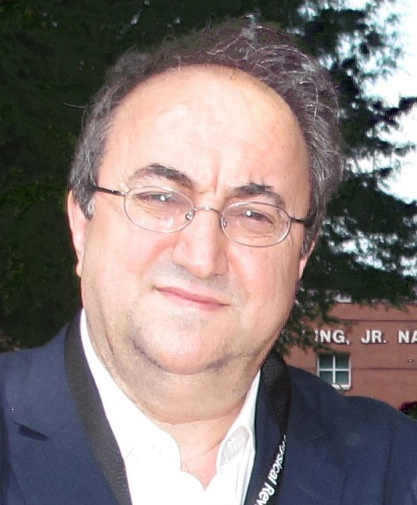 The Bridge: Could you please give us a brief summary of your background?
Esen Ercan Alp: I graduated from Middle East Technical University, first studying engineering (BSc and MSc), and later physics. I then went to a place called DESY in Hamburg to learn nuclear spectroscopy as an IAEA Fellow. After finishing my PhD in Southern Illinois University, I joined Argonne National Laboratory as a postdoctoral researcher 30 years ago, and I have been there since then.
T.B.: Could you also summarize your research?
E. E. A.: My research involves exploitation of powerful x-ray sources called synchrotron radiation. We have discovered a new kind of x-ray spectroscopy (nuclear resonant scattering) with unprecedented sensitivity to study vibrations of atoms, called phonons. This was in 1994 during experiments in Japan, and ever since I study the thermodynamic properties of materials under extreme conditions of pressure, temperature, and magnetic fields, including nanomaterials, single layers of atoms, liquids, and proteins. The research program I lead involves collaborations with biophysicists, geophysicists, materials scientists, and chemists. One week, we study protein dynamics or new nanocatalysts and enzymes, and the next week we are near the center of the earth at several millions atmosphere pressures and 3000 K. Argonne National Laboratory is one of the leading research laboratories in the World with more than 3500 employees, supported by Department of Energy.
T.B.: Where do you see physics studies in Turkey? What are your suggestions to improve the research in Turkey in this area?
E. E. A.: There are many bright physicists in Turkey, both in experimental and theoretical area. What they lack is serious infrastructure to catapult them to the world stage. The same people, when they come over here, do miraculously good work. Therefore, I have been advising Turkish funding agencies like Ministry of Development and Ministry of Science and Technology to look over the horizon, see the general trend in the rest of the world, and follow the suit to build large-scale national laboratories with world-class infrastructure on the scale commensurate with the ambitions of its scientists and people. Unfortunately, with the current level of R&D spending stuck at 0.9 % of GDP, Turkey is well below the OECD average of 3 %. This translates into frustrated young people, who are unable to pursue their dreams inside Turkey, and leave for the better grounds in large numbers. Contrary to recent claims, the direction of brain drain has not changed since I was a child. With the current rate of increase of R&D budget, we are on course to reach OECD average of 3 % in 2040! However, some countries are already pulling ahead with 5 % commitment, like Korea, Norway, and Finland. We will never catch up, it seems.
T.B.: Would you please tell us about the current status of collaboration between the US and Turkish research institutions in the field of physics, and also about your recent initiative to establish a network of Turkish scientist in physics? What can be done to increase the collaboration and strengthen the bridge between Turkey and the US? And how can TASSA, in your opinion, contribute to it?
E. E. A.: There is, for many years, US-Turkey bilateral research agreement in place between NSF and TUBITAK. It has been idle for a long time, but there seems to be some movement now. Of course, there are numerous collaborations between the individual scientists in both countries, but nothing like US-China, US-Brazil or US-Canada level. There is also an attempt to send a scientific attaché to the Embassy in Washington, but clearly it is too little too late. One needs to look at the number of scientists assigned at, for example, French Embassy and consulates in the USA to get an idea what it takes to collaborate and exploit the scientific opportunities offered here. Turkey is nowhere close. There is no formal participation to any major scientific infrastructure here that involves Turkey paying millions of dollars. And yet, that's what precisely is needed, and many countries, like Australia, Brazil, and Canada are doing exactly that.
As for what can be done, it is clear that Turkey must commit herself to a kind of scientific revival, as it was done with electrification and road building in the 1950's. Only a similar level of commitment at home can create the right conditions and environment so the need for serious collaboration and joint projects can arise. The current level is simply inadequate. Any collaboration between a weak and a strong partner is hardly collaboration but simply an aid.
We can also mention the woeful nature of the current primary and secondary education system in Turkey as another major impediment, but that will take a whole another page.
There is a role to play for Turkish scientists working in the USA as well. For once, it is incumbent on us to find our counterparts in Turkey, and develop the necessary communication paths in the form of short visits, collaboration, equipment donation, consulting, and student exchange. For academics, this must be trivial because the targeted audience is really small. TASSA can also play a vital role in initiating, sustaining, and encouraging such links. The biannual meetings of TASSA are wonderful opportunities for young scientists to come into contact with various sections of the Turkish academia. I would also advise that the professional society meetings are proper grounds to develop Turkish networks. For example, this year, with very little effort, we were able to bring 45 Turkish physicists together at the American Physical Society's meeting in Denver, CO. We now have proper links and e-mails, and a google group. Yet, this has to be taken at a higher level in the form of a more permanent and sustainable organization and that is where TASSA comes in. TASSA can reinvent itself by fostering and hosting special interest groups of physicists, chemists, economists, geologists, social scientists, and such. These groups, ideally, should have people from USA as well as from Turkey.
T.B.: You will also be chairing the 2016 TASSA meeting. Would you please tell us about this undertake and your vision for the meeting?
E. E. A.: I was very impressed with what TASSA was doing in the last couple of years. I have met Dr. Haluk Unal twice at a meeting in Turkey, where 100 scientists were invited from abroad, majority of them from USA. After listening to his presentations, and following the web site, I decided to attend the 2014 meeting in Maryland. I was pleasantly surprised to see the Award Ceremony for Young Scientists, the quality of their presentations, and I decided to put some more effort into TASSA. I have consulted with several friends, and decided to ask permission to organize the meeting in Chicago. The Midwest has many academics and scholars of Turkish origin, many companies do business with Turkey, and we have wonderful support from our Consul General, Hon. Fatih Yıldız. Finally, when I received strong support from Dr. Rita Koryan, the Director of Northwestern University's Keyman Center, I was convinced we can pull this off.
My vision for this meeting is to enhance the visibility of academicians doing basic research, in social, life and physical sciences. I feel that the full potential of our diaspora scientists have never been exposed, and I hope that TASSA 2016 will be a show case. I am aware that this is no easy task, but I plan to continue by building upon the success of the previous meetings, and count on the team Dr. Haluk Unal was able to put together.
T.B.: You have been mentoring many international scientists and scholars and also graduate students throughout your career. What would you advise young scientist for a successful scientific career?
E. E. A.: My advice to young scientists is simple but several:
Work hard but stay humble, never forget that there are better people than you are.
Choose and stay in one field long enough to make an impact. It takes decades to make a good name.
Make sure you choose a field in which your competition has as much at stake as you have in the success of your programs, and vice versa. I was once told that the scientific competition is different in the sense that there can be more than one winner.
Finally, the best advice I was ever given by my mentors, Drs. Gopal Shenoy and Bobby Dunlap, I can pass it to the next generation: Make your own field of study interesting to others, rather than chase popular fields of research.