Young Scientists Profile: Conversation with Utkan Demirci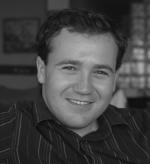 1.       Can you please talk about your background? (When did you come to the U.S and how)
I came to US as an undergraduate student and got my BS in Electrical Engineering from University of Michigan, AnnArbor. My studies were supported by the Turkish Ministry of Education under a special scholarship given to students who have high rankings in the University Entrance Exams. I lead a productive research group of 30 researchers focusing on micro- and nano-scale technologies. I received my B.S. degree in Electrical Engineering in 1999 as a James B. Angell Scholar (summa cum laude) from University of Michigan, Ann Arbor. I received his M.S. degree in 2001 in Electrical Engineering, M.S. degree in Management Science and Engineering in 2005 and Ph.D. in Electrical Engineering in 2005, all from Stanford University.  We create technologies to manipulate cells in nanoliter volumes to enable solutions for real world problems in medicine including applications in infectious disease diagnostics and monitoring for global health, cell encapsulation in nanoliter droplets for cryobiology, and bottom-up tissue engineering. My research interests involve applications of microfluidics and acoustics in medicine, especially: microfluidics for inexpensive, disposable CD4 counts and viral load for HIV in resource-constrained settings for global health problems; 3-D bioprinting and tissue models including 3-D cancer and neural cultures. I have published over 70 peer reviewed publications in journals including PNAS, Advanced Materials, Small, Trends in Biotechnology, Chemical Society Reviews and Lab-chip, over 150 conference abstracts and proceedings, 10 book chapters, and an edited book. His work was highlighted in Wired Magazine, Nature Photonics, MIT Technology Review Magazine, Reuters Health News, Science Daily, AIP News, BioTechniques, and Biophotonics. My scientific work has been recognized by numerous national and international awards including the NSF Faculty Early Career Development (CAREER) Award (2012),  the IEEE-EMBS Early Career Achievement Award (2012) and TUBITAK TUSIAD Nanobiotechnology Award (2007). He was selected as one of the world's top 35 young innovators under the age of 35 (TR-35) by the MIT Technology Review. In 2004, he led a team that won the Stanford University Entrepreneur's Challenge Competition and Global Start-up Competition in Singapore. His patents have been translated leading to start-up companies including DxNOW.

2.       You've always been on the top ranks of academic achievement. What was the driving force behind your success at such young ages?
I just did what interests me and realized early on that science is a significant pathway to create impact and do something useful with one's life. i realize that science is a marathon and one has to  run along as far as it takes you.

3.       What would you like to say to the Young Turkish Scientists?
We have great minds that are living in the US and in Turkey. I think success in science is not necessarily only limited to being successful in classes or being smart. Research and perseverance towards innovation is a challenging path that requires training and the right kind of culture and attitude on top of academic success. Many success  young minds have to realize early on that they need to breathe the culture and live the microenvironment of innovation to be able to develop that skill set to set them into a trajectory that will lead to future great discoveries.
4.       What would you like to achieve in the near future?
My near term goals are to continue creating solutions for the real world problems in medicine and challenge biological questions creating new biotechnologies.
I also hope in the long run to be able to translate some of these experiences at a broad scale to my native Turkiye.
5.       Would you be able to summarize your research in one paragraph?
Micro- and nano-scale technologies can have a significant impact on medicine and biology in the areas of cell manipulation, diagnostics and monitoring. At the convergence of these new technologies and biology, we research for enabling solutions to the real world problems at the clinic. Emerging nano-scale and microfluidic technologies integrated with biology offer innovative possibilities for creating intelligent, mobile medical lab-chip devices that could transform diagnostics and monitoring, tissue engineering and regenerative medicine. Our laboratory's work in these areas focusses on applications in point-of-care and primary care settings including ovarian cancer detection from urine, rapid CD4 counts for global health, multiple pathogen detection with a focus on viral load from unprocessed whole blood and bedside peritonitis detection for end stage kidney disease patients going through peritoneal dialysis therapy. Our work on 3-D biofabrication/bioprinting, and dynamic acoustic and magnetic systems for bottom-up tissue-construct assembly using cell encapsulating microscale hydrogels aims to engineer the 3-D cellular microenvironment. As an example, we have recently created a microfluidic platform, where flow induces a motile and aggressive phenotype in ovarian cancer nodules via increased epithelial-to-mesenchymal transition (EMT). These emerging technologies could shape our future creating broadly applicable platforms for scientific discovery, providing clinical solutions for resource-constrained settings in the developing world as well as for primary care settings in the developed world.
---