Conference on Translational Research and Commercialization of Nanotechnologies
National Innovation Initiative (UIG) in collaboration with Turkish American Scientists and Scholars Association (TASSA) is organizing an international conference on December 22-23, 2008, in Sabanci Center, 4. Levent, Istanbul, Turkey. For detailed information and free registration for the conference please visit www.nanoproje.org. Please note that project submission deadline is December 1, 2008.

Students who are enrolled in Universities in North America, whose projects are approved for presentation at the conference will be eligible for a travel subsidiary up to $750. Hotel accommodations during the conference will also be available by request. To apply for the travel subsidiary please contact Aylin Sagay by email aylin@drexel.edu.

This event has two simultaneous objectives. While scientific panels provide for academic discussions and learning opportunities, researchers will also have a chance to share their projects with industry, investors and financing institutions. During this conference, nanotechnology strategies will be discussed in the context of basic research/ applications/commercialization triangle. This event will contribute towards the development of knowledge necessary for nanotechnology to thrive in Turkey. Specifically, creating the ideal environment for the translation of innovative research results into new high-tech products is an indispensable goal of the program.

Please visit www.uig.gen.tr for more information about the National Innovation Initiative (UIG).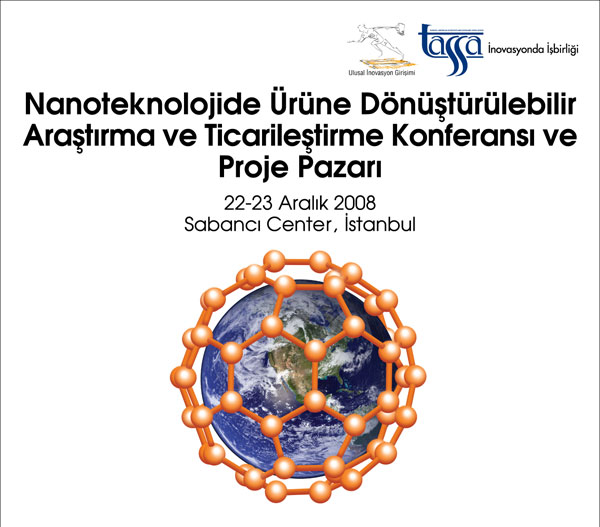 Ulusal Inovasyon Girisimi (www.uig.gen.tr) ve Türk Amerikan Bilim Insanlari Dernegi (www.tassausa.org), iki ülke arastirmacilari arasinda bir inovasyon köprüsü kurmaya çalismaktadir.

Köprünün en önemli ayaklarindan biri; dünya ve Türkiye için son derece önemli olan nanoteknoloji alanindaki birikimlerin paylasilmasi ile insa ediliyor.

Türkiye ve ABD'den konusunda derin bilgi ve tecrübeye sahip uzmanlar panellerde görüs ve birikimlerini aktararacaklar.

Panellerin yanisira, Proje Pazari ile Türkiye ve ABD'den arastirmacilarin fikirleri, sanayici ve yatirimcilarla bulusacak.

Tüm bilgiler, proje basvuru formu ve konferans kayit formu www.nanoproje.org adresinde sizleri bekliyor.

Bu etkinlik ücretsizdir. Projesini sunmaya hak kazananlarin yol ve konaklama masraflari karsilanacaktir.



Iletisim için ref@sabanciuniv.edu adresine basvurabilirsiniz.