Council on Foreign Relations: US-Turkey Report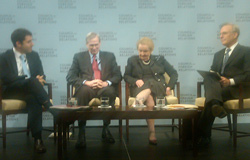 On May 9, 2012 Council on Foreign Relations unveiled the report of a Task Force on U.S.-Turkey Relations; A new partnership. The chairs of the task force were Madeline K. Albright and Stephen J. Hadley. The roundtable discussion of the report was chaired by a familiar face, David Ignatius of the Washington Post.
The report acknowledges Turkey as a rising regional and global power and calls on the U.S. government to establish a new partnership with Turkey using new tools. The full report can be accessed here.
---